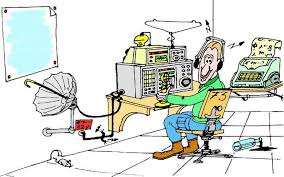 If you are looking for ham equipment or looking to swap, trade or sell ham equipment this is the place! Send an email with a detailed list of equipment including the item, description, age, condition, and price to VELIKM@gmail.com (KL4M) to be listed on the Gear Swap page. You may also send an email if you are looking for equipment. Be sure to include your name, call sign, and how you want to be contacted (Note: this is a public site, so do not post your private information.
LOOKING 4 GEAR
LOOKING 2 SELL GEAR
Items for Sale:
TR-9000 all mode 2 meter 10 watt transceiver.
Mirage/KLM B2530 G 2 meter 300 watt Amp (10 watts in for full output)
These two items above would make a great All mode high power station. I'll take 375 dollars and that includes a PWR supply capable of running the Amp at full output.
DR-570T VHF radio (35 watts) $45 Condition Works.
Misc Mobile whips and bases-Mag. Not priced-Take offer.
1 each TS440 and TS-570 Transceivers Very good condition, take offers.
This item is a HT by Wouxun model KG-UV3D dual band VHF/UHF FM 5 W radio.
Like new condition with battery and charger. $65   OBO
I have other items available; let me know what your looking for
If your interested in any of these items contact Glen at the following address or phone number.
or 907-299-9941