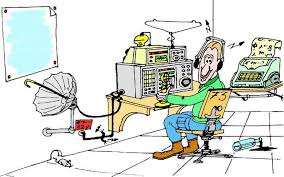 If you are looking for ham equipment or looking to swap, trade or sell ham equipment this is the place! Send an email with a detailed list of equipment including the item, description, age, condition, and price to VELIKM@gmail.com (KL4M) to be listed on the Gear Swap page. You may also send an email if you are looking for equipment. Be sure to include your name, call sign, and how you want to be contacted (Note: this is a public site, so do not post your private information.
LOOKING 4 GEAR
LOOKING 2 SELL GEAR
Items for Sale:
1 complete Packet VHF station: VHF radio, TNC, cable, antenna, coax, computer, software installed!
I can help install and teach how to operate. $175 or trade
1 Coax Switch MFJ-1704 (0-500 MHz)$35 List $99
1 DR-570T VHF radio (35 watts) $45 Condition Works. Can be a good Packet radio.
1 MFJ-1526 Pulsar Dual Band Antenna 17 foot. Asking $75 New cost $140.
Condition: very clean, SWR good.
1 Packet KAM TNC HF/VHF $25 Works good. Can go with DR-570T radio, have cable.
1 remote Coax Switch RCS-8V NEW at cost $180.00 ( have control cable ).
Misc Mobile whips and bases-Mag. Not priced-Take offer.
1 each TS440 and TS-570 Transceivers Very good condition, take offers.
This item is a HT by Wouxun model KG-UV3D dual band VHF/UHF FM 5 W radio.
Like new condition with battery and charger. $65   OBO
If your interested in any of these items contact Glen at the following address or phone number.
or 907-299-9941