Technician and General Amateur Radio  License Classes
Class Schedule: Fall 2018
Classes will be held on consecutive Saturdays, September 15, 22 & 29, from 10 a.m. to 2 p.m.
Classes are held at the Homer Public Library conference room. Any schedule changes will be posted to this site and on the Homer Public Library web site.
Classes are free and open to the public.
TESTING SESSION:
Thursday, October 4, from 5 to 8 p.m.
Please come early and bring a photo ID. You will be required to fill out paperwork prior to taking your test which will require either a Social Security Number or an FRN
HINT: "You can get an FRN from the FCC website, that way you don't need to use your SS# for the testing session"
FCC FRN Application link : Just follow the directions.
If you are upgrading your license you will need to bring a copy of your ham license which you can print from the FCC web site online.
You may bring a calculator but you will not be allowed to use the calculator on your cell phone. Please silence your phone and put away during the testing. You will not be allowed to leave the room until your test has been turned in so take a smoke or bathroom break prior to starting the test. No talking and please be respectful of others taking the test. Leave the testing room when you finish but stay inside the library so we can give you the results of the test. If you pass we encourage you to try for the next license class. If you miss it by a few, you can retake the test using a new test packet.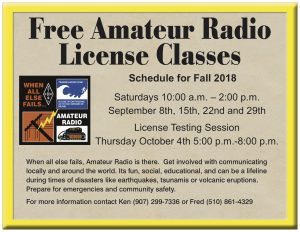 If you are able to distribute testing session posters like the one above, click here to view the poster distribution list.
Copy of Poster distribution list.
Here is another resource for Amateur Radio information.  Just follow the link below.